Faithful to our monthly vinous get-together, this Thursday 15th, the March edition of Rotterdam Wine Lovers meetup will be all about the German Riesling.Consistently stated as the favorite (white) wine of sommeliers and serious wine enthusiasts, the Riesling is often misunderstood by the wide wine loving audience. Why? Keep reading!
This misunderstanding was the reason I felt I should organize a meetup to showcase why enthusiasts and connoisseurs around the world are raving about it, and why you should give it a chance to win you over. Because it will :)
Jerome Heinz, fellow wine meetup organizer at The Hague Wine Tasting Club will be in the lead of this tasting. Jerome, born and raised in Mainz, the German wine capital, apart from his The Hague tastings, he organizes weekend-long or customized trips to the German wine regions. I couldn't find a better person to introduce us to the Riesling!
Fun fact: The first documentary evidence of Riesling is dated in March 13, 1435. Which makes our wine Meetup this March, happening almost exactly 583 years after! Happy 583 birthday, Riesling! Ha!
"Riesling? Is that the sweet cheap wine I find at the Lidl?"
Eh...let me tell you a little story.
The Riesling was originally made dry, most of times. However, at some point after the World War II and predominantly in the '80s, wine lovers started asking for sweeter versions. Then winemakers, in an effort to sell more wines, started making mass production sweetish wines, many of which actually contained little or no Riesling!
Unfortunately, they did manage to damage the name of the German Riesling with its impact being felt until today, 40 years later.
Cut to the chase: What makes Riesling so special?
I will keep things simple. There are four main elements that make Riesling so amazing:
1. Its pure fruit aromas
Riesling is an aromatic grape. Depending on where it's grown Riesling will a wide range of aromas from green apple, to citrus peel, yellow peach, and pineapple. With ageing and or late harvest wines it will give aromas of dried fruits, honeycomb and its characteristic rubber or petrol smell! Yes, petrol!
Minerality is often mentioned as a characteristic of Riesling and this comes from the soil where the grapes are grown and can be felt in your palate (your mouth) as saltiness. In the nose you will smell wet stones!
2. Incredible diversity of styles
You will find Rieslings from sparkling, still bone dry and mildly sweet to very thick and luscious sweet styles.
3. The ability to show where it was grown
It's astonishing to see that even neighboring vineyards can produce wines that present such different character in your glass. Imagine what happens among Rieslings from Washington State, Australia, Germany or Alsace. That's quite a party!
Soil is king!
The soil has a big impact on the flavors or Riesling wines. So much so that German winemakers often name their wines after the soil that produced them.
4. It's ability to age beautifully for decades.
The best Rieslings can be wonderful after even a century or more! The Riesling's characteristic firm acidity is what allows these wines to survive the passing of time. The artistry of a good winemaker will allow it to preserve and develop its intoxicating aromas even after decades.
Why is Riesling so hot right now?
Modern wine drinkers favor wines made in a lighter, cleaner, more elegant style, that allows the different aromas and flavors to stand out on their own. Forget about overly oaked and buttery Chardonnays. No exaggerations in flavors. Balance is everything! Riesling with its clean and refreshing character, it's lively fruit flavors and mouthwatering acidity, appeals to the modern wine lover. Its low alcohol and various levels of sweetness make it an ideal food wine even for the most difficult dishes, which are usually the ones with lots of spices and umami flavors. Think Asian food!
How can I explore the different styles of Riesling?
You can use as a starting point the wine list from this Meetup. This wine list will cover most German regions and levels of sweetness.
Spritzer Sekt 2015 Brut - Reingau

Pauly Generations Riesling 2016 - Mosel

Domaine Hermansberg vom Schiefer 2015 - Nahe

Dr Kauer Kloster Fürstental 2015 Spätlese Trocken - Mittelrhein

Kuhn Kallstadter Steinacker Riesling 2016 - Pfalz

Küling Gillot Pettenthal Spätlese 2016 - Rheinhessen
As a next step I would suggest that you try a few Rieslings from regions outside Germany. Some examples:
Even better: Drink Riesling (and more) at the heart of the German wine land!
As mentioned earlier, Jerome Heinz organizes weekend-long or customized trips to the German wine regions.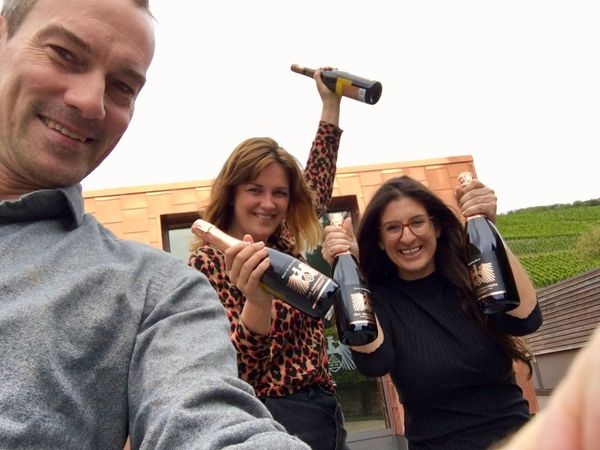 Immerse yourself in Germany's wine culture: visit top wineries, vineyards and surrounding terroirs; explore the most beautiful wine villages; get introduced to related historic sites, cellars, and wine bars. And you will get you to meet the people making, loving and living wine in Germany.
I've done already 2 tours in September to Nahe, and Christmas 2017 in Pfalz and Rheinhessen. I'm eager to explore all German wine regions, especially the breathtaking Mosel!
Check out his website for dates, prices and impressions Bottlestops.com